FRIDAY 7 DECEMBER
Silvina has been a paper artist for 8 years, she has been published in several books about Paper Cutting and did several paper illustrations for publications. She is an illustrator and graphic designer, paper cutter and very experienced teacher, excited to pass on these skills to other makers.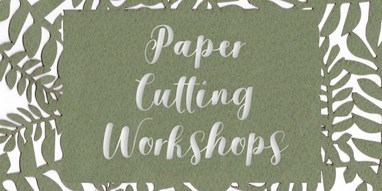 Come and find out about the techniques she uses to create her pieces, and then create your own! We will use a variety of materials to create a mini paper dome with lights and you will produce an original piece to take home with you.
This workshop is ideal for beginners who are interested in learning the basics of Paper Cutting. Paper Cutting is a fast growing trend and a great way of creating designs to brighten up your home, create decorations for special occasions such as Christmas and Weddings, or make personal gifts for friends and family.
The session will be held in the Greenhouse - the beautiful conservatory at the back of the secondhand superstore. The conservatory will be closed to the public for the afternoon so you'll be able to enjoy the space without any distractions. During a break half way through the workshop we will enjoy some tea and toasted cakes from our cafe, Revive@emmaus.
All materials will be provided. Classes are limited to 10 spaces in total so please be quick if you would like to book.
Ticket price includes:
- 2 hours of teaching from Artist Silvina De Vita to make your own Christmas mini paper dome with lights
- All materials including the dome and the lights.
- Tea and toasted teacakes (please inform us of any dietary requirements in advance)
- A plant lovingly propagated by the Emmaus team in their onsite polytunnel.
(The ticket is discounted due to the charitable nature of this event)
The Greenhouse is a magical place which sells plants alongside second hand and handmade gardening goods, most of which are donated by members of the public.
Visit Silvina's website www.silvinadevita.com & follow on
twitter: @silvina_dv/ FB: @silvinadevita / Instagram: @mypapercutforest @emmausbrighton
Back