A Brighton blogger is using her skills for good, teaching crafts to raise money for Emmaus Brighton & Hove.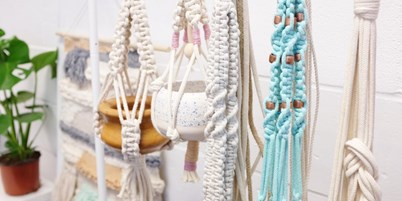 Lucy Davidson, well-known for her craft and lifestyle blog 'Peas & Needles', will be running macramé workshops at the Emmaus Brighton Christmas Fair on Saturday 2nd December. An expert in weaving, ceramics and macramé, Lucy's work is recognisable from the soft colours she uses to create gorgeous contemporary homewares.
Participants at the workshops will be shown a series of basic macramé knots and urged to experiment with different styles to create their own beautiful plant hanger. Proceeds will go towards The Greenhouse @Emmaus – the second hand garden shop that is one of the Emmaus social enterprises based in Portslade.
Emmaus Brighton is a charity helping people move on from homelessness by providing them with a home and meaningful work in a supportive, family environment. The Emmaus Brighton community is home to 47 people, known as companions, and each individual contributes by working to the best of their ability in one of the social enterprises or in another role within the community. The Greenhouse sells a selection of plants alongside second hand and handmade gardening goods, most of which are donated by members of the public.  
Macramé, the art of knotting string into patterns to make decorative items, was originally popular in the 1970's and has experienced a revival in recent years, alongside the trend for retro house plants.
Greenhouse team member Lyndsey Haskell says "We love Lucy's style and have admired her work via Instagram for years. We're so thrilled that she's coming to take part in our Christmas fair and will help some of our customers to create beautiful macramé works of art themselves".
The Emmaus Christmas Fair will take place between 10am and 4.30pm at the Emmaus site in Portslade. Entrance is free and visitors will be treated to fun for the whole family with mince pies, music, games and activities as well as the chance to buy Christmas trees, presents and decorations.  
This year's Christmas Fair will be a fitting finale to 2017, a year of celebrations as the community has marked its 20th birthday with a number of events throughout the year.
To book a place please follow the link below: https://www.eventbrite.com/e/macrame-workshop-at-the-greenhouse-emmaus-tickets-39370104041  
Back