Brendan's story
Finishing your first half marathon is an achievement, and an emotional occasion, for anyone. For 49-year-old Brendan Spellman it was a watershed moment: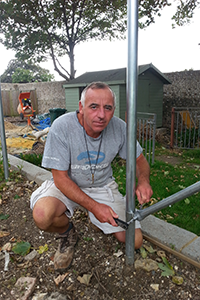 "As we approached the end, I looked over to Brighton Pier and thought – two and half years ago, I was sleeping rough under there."
Brendan, a Companion and Community Assistant at Emmaus Brighton, also completed his 50th parkrun at Hove Park recently. His journey astonishes even himself.
"In August 2011 I was on my knees. I had to have a can in my pocket each night so I could have a drink when I woke up. Now I'm as fit as I was 25 years ago and I feel a million miles better. Just shows you what's possible."
What's possible if you get the right help.
His extraordinary story began when, after a lifetime of working in the construction trade, travelling all over Europe in his free time, Brendan lost most of his money in an investment linked to the Lehman Bros collapse of 2008. The global crash that followed decimated his industry, and for the first time he couldn't make ends meet. The human face of economic statistics.
Brendan ran up huge debts and lost his home; stress turned social drinking into a dependency and then into a problem. The breakdown of a relationship was the last straw, and in 2011 he moved to Brighton with his last few hundred quid to try to start a new life. But of course, in today's extortionate housing market, new starts cost a lot more than that. And by then, Brendan's drinking was really bossing him around.
"I was living on the streets, spending my benefits on drink. I'd basically given up."
A homeless charity guided him to Emmaus, but Brendan initially found the adjustment to living in a community quite hard. He left again after a few months, determined to manage independently – as, till recently, he always had. But when a promised job didn't materialize, booze instantly stepped in again. This time the gradient was even steeper. Within weeks Brendan's bedroom had become a spot under Brighton pier.
Luckily, this time, he had friends at Emmaus, who went looking for him and persuaded him to come back.
A month later Val, a regular volunteer and a Saturday morning "parkrunner" herself, suggested that Brendan might like to join her. Brendan, who'd been sporty in his youth but had done nothing active for years, reluctantly agreed, and dragged himself down to Hove Park to join the 400-odd people who run the 5k run there every week. He managed to get round the course, and went back the following week. That, as Winston Churchill would put it, was the end of the beginning.
Second time around, Brendan embraced the Emmaus life and it's done him proud.
"It's the structure of the 5-day working week that works for me," he told me. "I've always been hands on, I like to get things done."
He now runs every Saturday morning. Last winter he trained for seven weeks to run the Brighton half marathon, raising over £600 for Rise, the domestic abuse charity, and is intending to run a full marathon next year. His debts are largely paid off, and his drinking, thanks to the counselling he's received, is back under control. He's spent time in Poland and Bosnia to support Emmaus Solidarity projects, and is now deciding whether or not to move back into the outside community or whether to stay and perhaps become a full time Emmaus employee, helping others like himself.
"If just one homeless person, where I used to be, reads this story and realises that it's possible to turn things round, then I've achieved something."
Here at Emmaus, we all think Brendan's achieved a lot more than that.
If you would like to take part in parkrun at parks across the country, you can register at
www.parkrun.org.uk
.