Lee's story
Music has always been a positive outlet for me, so I decided to start an ensemble music workshop.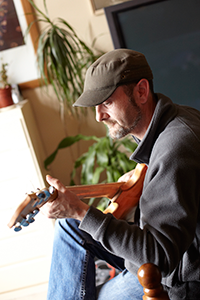 The response was more positive than I could have hoped for. Within a few months, the workshop had increased to five Companions and we had an opportunity to perform in our café here at Emmaus. It wasn't long before we found our style of play, the blues, so we set about writing the music and lyrics to the Emmaus blues. After four weeks of rehearsing the day had arrived, so with frog in throat we performed. The response was amazing which is a testament to the hard work all had put in.
It is a continual journey of self discovery, from the basics of learning rhythm to the dizzying heights of external affirmation and all the fun in between. We support each other within the music which also hones life skills such as confidence and communication.
Support from the Emmaus community has been considerable, helping obtain instruments and giving us the opportunity to perform in public. As a group, we are appreciative of the energy sent our way and will continually strive to have a positive message and an optimistic approach to music and life.
You can watch the band's first performance on YouTube.