Donate money
Help support Emmaus Brighton & Hove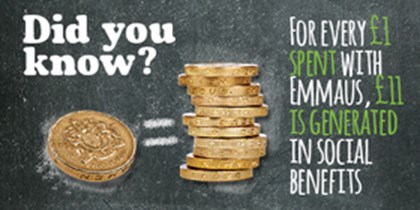 We make our donations work hard.
Our research shows that for every £1 invested in Emmaus there is an £11 return.
You can download a donation form here.
If you would like to make a donation to help support the work of Emmaus Brighton & Hove, you can do so by the following means:
Visit  https://localgiving.org/charity/emmausbrighton/ make a one-off donation or set up a regular monthly donation
You can make a Bank Transfer directly to our account:
Account name: Sussex Emmaus
Sort Code: 40-52-40
A/c no: 00008042
If you prefer you can donate by cheque
 You can download a Gift Aid donation form here.