Sally's story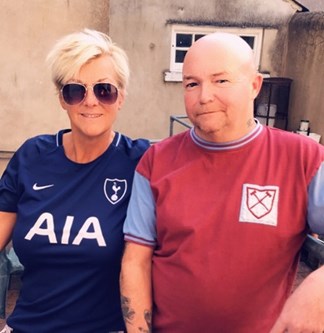 It's tempting to think of Emmaus solely in terms of Companions, but our Portslade community also plays a huge role in the lives of many local people and volunteers.
Sally discovered the place as a customer back in 2005, but five years ago, following a move to the area, decided to become more involved.
"We had a pub in Brighton, The Bush in Arundel Road, and I was used to being surrounded by people. When we moved up here, with my husband working seven days a week, I was a bit lonely."
Visiting the community to walk her dog or get a cup of coffee, Emmaus became something of a sanctuary. Sally liked the way place was run, and noticed how people looked after each other. Signing up as a volunteer was the obvious next step, and for most of the last five years Sally has spent her Saturdays in the Revive café, helping to prepare food, performing barista duties, or just chatting to customers. She has a huge affection for the Companions she's worked with:
"Mary is amazing, really helpful... Sian has a great sense of humour. And John on the washing up is one of my favourites."
Emmaus has become such a feature in Sally's life that she's celebrated two major birthdays here with cream teas in the café. Through her involvement she's also met Emmaus President Terry Waite, and TV actress Elizabeth Carling, a regular visitor to the community. But recently Sally's had to take the decision to hang up her apron, following a move to Hurstpierpoint to benefit her grandchildren and her dog. And leaving her regular Saturday job is turning out to be quite a wrench.
"I won't be there as often, but I'll get a lift down when I can. I want to keep the connection - it would devastate me not to go any more."
Back