Chris' story
Hello, my name is Chris and I am the Transport Co-ordinator here at Emmaus Brighton & Hove. A few years ago things were very different indeed...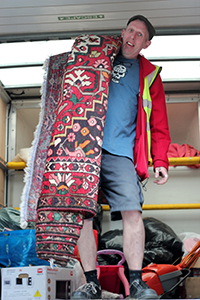 For over twenty years I was heavily into drugs, ending up being addicted to heroin for 18 years. When you are addicted to drugs nothing else matters, all you care about is drug related. You don't eat properly or look after yourself and as for relationships (partners, family and friends) they don't get a look in.
I first came to Emmaus Brighton over nine years ago, still struggling with my addiction, but with the help from staff and companions I got myself clean. Unfortunately I relapsed pretty quickly and I left as I felt ashamed and guilty. I went to stay with my parents and within a couple of years my addiction had spiralled out of control. One day my mum turned around and said "We know something is wrong, we know your not going to tell us, but for god's sake go to the doctors". So I did.
After nine months of coming off drugs using methadone and subutex and doing a home detox, I went off to rehab for four-and-a-half months. The best thing for me in rehab was having a long period of clean time in a controlled environment with loads of support. I came straight back to Emmaus from rehab, as I needed (and still do) structure. After 1 1/2 years I wanted more out of life and to do some of the things I had not done while being out of control on drugs. So I managed to get myself a job and moved out of Emmaus. After 2 years of working I heard there was a drivers job going at Emmaus and I was lucky enough to get it and now have a new challenge in my role as Transport Co-ordinator.
I loved living at Emmaus and now working there because Emmaus is a very special place for me. Everyone is very supportive and understanding — they don't judge people on their past, but provide support and counselling to deal with any issues people might have. Also to me Emmaus is the ultimate in recycling. We accept donations from the public, which might have ended up in landfill.