Next Friday will see the start of our 20th anniversary celebrations and we are busy behind the scenes preparing all sorts of exciting events for 2017.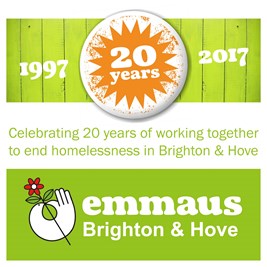 We have already produced a 12 page colour '20th Anniversary' newsletter, which includes a selection of 'photo memories' from around the site, inspirational Companions stories and lots of other interesting articles.
If that was not enough we have also complied a four page history booklet of our beautiful site with lots of amazing facts dating back to Norman times. Both of these publications will be available from our shops and café in the coming weeks and available to read and download online.
Other highlights:
Spring fair on Saturday 8th April 2017
Summer fair and open day on Saturday 24th June
Christmas fair on Saturday 2nd December
Exhibitions
An evening with Terry Waite
Plus many more activities and happenings throughout the year!
If you would like us to mail you a copy and to be added to our Newsletter *database, please email us at contact@emmausbrighton.co.uk as were happy to send you a copy.
If you're on Facebook you can also subscribe to receive updates and be the first to know of our specialty 'pop up' sales and other events.
Here's to a wonderful 2017 for all of us.
*Our newsletter database is only used to keep you up to date with our Community news, events, and nothing else. You can request to be removed from this list at any time.
Save
Back