If you've not yet discovered Emmaus By the Sea, you're missing out.
Our Southwick shop, on the corner of Station Rd and the A259, is easy to find, and crammed full of the goodies we've all come to expect from Emmaus shops – quality second hand and upcycled furniture, clothes, bric-a-brac and retro delights. And thanks to some help from CRASH, the building industry charity supporting homeless projects, it now boasts a brand new kitchen.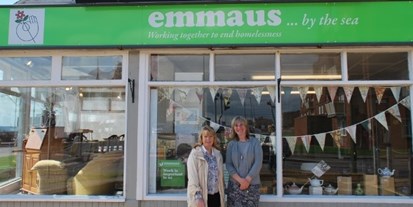 So drop in for a browse, or for tea & cake, and keep a lookout for our special pop-up sales of books, vinyl or plants at bargain prices. And as with our main store, anything too big or heavy to take home can be delivered in the local area for a small charge – so don't worry about trying to get that fabulous leather armchair home on the bus.
Hope to see you soon.
Back