Denise's story
It was very soon after my husband had died that my grandson and his wife visited Emmaus and heard about The Goodwill Co-op for the first time.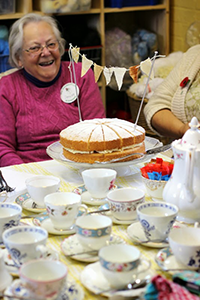 Bruno and I had just celebrated our 60th wedding anniversary and he had died a few days later. They picked up a leaflet that said that there would be a first meeting on 14th May 2008 for people who would like to get involved and told me "Granny, it's just what you need".
The funeral was a few days away and at that first meeting and during that time, the new friends I made at Emmaus were a tremendous support. I met Pam at the meeting , Companions Lee and Chris were very kind and helpful and Tony used to give me lots of cuddles. Joel in particular gave me a lot of support during what was a very difficult time for me. Coming to Emmaus and joining in with The Goodwill Co-op pulled me through, kept me busy and made sure I carried on thinking about other things.
The Goodwill Co-op is a collection of volunteers who make unique handmade gifts to sell in the shops at Emmaus to raise money for the community. We also love to get involved in making things for displays and events in the community. We knit, crochet and sew, and I'm a dab hand with the knitting machine. My husband was always finding bargain yarn for sale so I've got a house full of it and am gradually using it up on Goodwill Co-op projects.
I get a lot of satisfaction from being involved in the project. I'm 85 now so it's really nice to have a regular place to meet people and make sure I get out. People come and go, but many of us have been there for years, we enjoy welcoming new people to the group who bring new ideas for things we can sell. We enjoy getting to know the companions' characters and love to hear how they're getting along once they've left the community, moving on and often using their experience to help others.
We work with our own materials and donations that come into Emmaus. It's mostly odd bits of yarn or balls of Double Knit and chunky wool and offcuts of fabric but sometimes we'll get a few balls of the same yarn which means we can make some extra special bigger things. I enjoy knitting scarves, hats and any quick-makes and my favourite things are the fingerless mitts that we sell in the Greenhouse. I created my own pattern for them and they're a good seller, very versatile and used by all sorts of people; cyclists, gardeners, electricians, anyone who needs to keep their hands warm but still be able to use their fingers.
There is always something different going on at Emmaus for us to take part in and be inspired by. The way the Greenhouse manager Rachael and the companions have worked on the gardens I think is brilliant, particularly the sundial in front of the superstore entrance that Lee worked so hard on. A few weeks ago I showed some young children how to use it. If you come along on a Tuesday morning I'll show you too.
New volunteers are always welcome. We gather in our room in the main shop from around 10.30 on a Tuesday morning and stay for lunch together, but even if you don't have time to come along every week you are still welcome to make things to donate and just drop them in whenever you're nearby. We have a stash of donated materials and are happy to take any of your unwanted craft supplies off your hands next time you're having a clear out. Likewise, if you're looking for something specific for a craft project, come and ask, if we're there we can have a look for you.
Denise
If you'd like to get involved in helping the Goodwill Co-op…
Come along to the Secondhand Superstore on a Tuesday morning from 10.30am.
Donate your unwanted craft supplies for us to make things from.
Browse the selection of reasonably priced yarns, fabrics and craft materials.