Gary's story
Gary is a Companion Community Assistant, who can mainly be found front of house in the Café.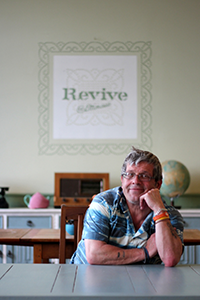 "Over the years I'd gradually become an alcoholic, in and out of prison for eleven years for robbery and burglary. I'd done it to get money to buy drink. 11 years has just gone like that, you never get over it. In between prison I worked on a farm with my father until a lorry reversed on me and broke my back and I couldn't do physical work any more with a spinal injury.

I wanted to stop the drink but I didn't know how. I really wanted to get over it. It's bad when you find you've been beating up your own family – I was close to my family and yet I'd done that. My father helped me. He kept me locked up for nearly a year with nothing to do but read and watch tele for all that time. I started off with large print books as I had never learned to read at school. My reading improved enormously. I needed to move away from all the drugs and drink so I moved to Brighton. I was sleeping rough in a bus shelter where I heard about these caves in the cliffs on Duke's Mound above the Marina.

Eventually, after three months I had to leave and the Council Rough Sleepers and First Base helped me and after 5 months I got into Emmaus. It's been a Godsend. You couldn't wish for better people, staff and Companions, everyone, it's like having a vast shoulder to cry on. I was frightened at first. Would I be harmed or picked on? No, I was welcomed with open arms by everyone. Like paradise really, a shower, food and a bed when you needed them.

A dream come true.