Mathieu's story
In 1995, when Mathieu turned up at Emmaus Cambridge with hardly a penny to his name, he never imagined that he'd be a part of the organisation for the next two decades. And he certainly didn't expect that he'd end up as Community Leader of Brighton & Hove Emmaus, with day-to-day responsibility for the largest Emmaus Community in the country. But the writing's on the cake – this year saw his 20th anniversary.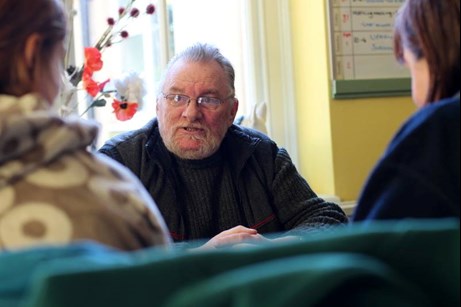 Mathieu, who spent much of his early life in Australia and South Africa, loved his early shepherding career. But traveling around the UK in shearing gangs, working contract to contract, doesn't give you roots or stability, and when the work dried up Mathieu found himself moving from town to town taking whatever work he could get. Ending up in a paint spray shop, working long hours for little money in intense heat and awful conditions, his health was suffering yet he was still hardly able to support himself. He ended up homeless, sleeping on friends' sofas, with barely enough petrol money to get from one to another.
But from the moment Mathieu arrived at the Cambridge Community in June 1995, he felt a security he hadn't felt in years. After moving down to Brighton, he took advantage of a Community Assistant scheme, was made Acting Community leader in 2003, and passed his interview for the full time position the following year.
"It was difficult at first," he says, "being accepted by your peers." But Mathieu firmly believes that Companions make the best leaders because they have an understanding of what being homeless means, and of the Emmaus organisation itself, making issues of respect and community discipline easier.
The esteem in which Mathieu's held by the Companions certainly bears that out. But he's concerned by the demographic changes in the people arriving at Emmaus in recent years – more women (some from abusive relationships), more people who've never had any kind of job, and a lot more young people. Knowing that Emmaus' value to the local area can only increase, Mathieu has no plans to leave, planning to stay on as a Companion again after retirement.
Seems like he found the right flock in the end.