Our site history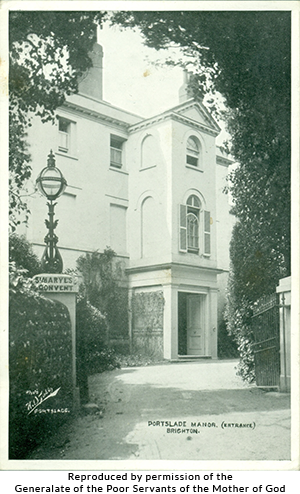 Emmaus Brighton is in the heart of Portslade Old Village. The land on which Emmaus Brighton stands was originally the site of a 12th century Manor House. Part of this house still stands, and the historic ruins are a popular view next to the Emmaus café gardens and children's play area.
They are a scheduled Ancient Monument and a Grade II* Listed Building. This was built from local flints and the Emmaus property is itself surrounded by flint walls. Some flints have been 'knapped' (cracked open) to show smooth black surfaces. The pale stone around windows and at corners in the ruins is Caen stone from Normandy, which is often found on Norman buildings in areas such as this where there is no local stone for 'dressing'.
In 1807 a new Georgian manor house was built close by and the old house gradually became a ruin. In 1901 the new manor house was put up for sale at auction and was described as:
occupying a commanding and healthy position
comprising a well-built and conveniently arranged family residence containing four reception rooms, conservatory, twelve bed and dressing rooms, bath room, two staircases and offices, 
grandly-timbered pleasure grounds, fine lawns, arbours, charming shady walks, and picturesque views of a former manor house,
stabling for five horses,
three cottages,
model farmery, dairy, laundry, two well-stocked kitchen gardens, glasshouses, large orchard and three enclosures of meadow land, the area being about 20 acres.
Download the particulars of sales from 1901
In 1904 the house was bought by Kathleen Nelson and given to the Poor Servants of the Mother of God, an order of religious Sisters whose founder, Frances Taylor, had been a nurse in the Crimean War and throughout her life was concerned for the poverty she saw about her. This concern for the poor and disadvantaged continues in Emmaus today. The special work of the Sisters was the care of women and they started a laundry in Portslade as a suitable means of self-support. The laundry is now the Secondhand Superstore.
After nearly 200 years the 'new' manor house did not meet health and safety regulations and so was extensively refurbished by Emmaus and is now let out as office accommodation to local organisations. The rental income is used to support the work of Emmaus. This is the large house overlooking the Emmaus gardens on the south side of the property.
In 1933 the Sisters built a chapel next to the manor house which has been beautifully restored and is now Outfit at Emmaus.
Also in 1933 the Sisters built a new wing to house the women in their care and this is now the main accommodation building for Companions at Emmaus and adjoins the Emmaus car park.
The Sisters sold the land to the north of Drove Road and it is now a school. They left the Convent in 1996 and the Emmaus Community opened in February 1997.
Save