Eva's story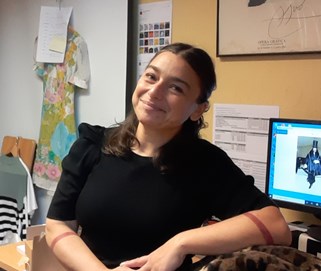 My name is Eva Russo and I am the Retail Manager of Outfit, the second hand and vintage boutique at Emmaus Brighton and Hove. I have been working here for two years in total, one year and eight months as an Assistant Manager and five months as a Retail Manager.
I used to be a wardrobe professional working in the creative industries, mainly in the theatre, running the costume departments of various productions. But I also worked as a prop and costume designer and maker in my own studio for many years. I have been very lucky to work as a wardrobe supervisor installing musical shows on cruise ships, sailing the seven seas aboard all the Cunard Queens! My most recent projects were for The Lion King and the Masked Dancer making wigs and masks.
After 25 years I decided to go back to university to study a Masters in Sustainable Design. I was looking for a change, for a new career that would allow me to put my skills and knowledge at the service of others within my community. So when I saw the job ad for working at Outfit at Emmaus it made perfect sense to me.
My day at Outfit usually starts with a team gathering, it's really good to have that moment to catch up with each other and plan the day ahead. Once we are organised we move fast taking care of the displays and the rotation of clothing so the shop is ready for the customers. Once the shop is open, I spend the day in between the shop floor and back of house organising clothes and accessories, as well as in the office planning events or taking care of our social media. There is never a dull day in Outfit!
What I enjoy the most about my job is that my skills are at the service of the community, not only the Emmaus Community, but also the wider community in which I live. I enjoy working with companions, colleagues, volunteers and the public in general, it is a unique experience and reminds me that diversity is what it makes a workplace great.
We are agents of change at Emmaus, our work represents social and environmental justice, and through it we promote crucial values like solidarity, dignity and equality. I reckon that now, in such unpredictable times, Emmaus Brighton and Hove not only is a place that provides a sense of safety and belonging to companions, it also a destination place that provides a space for social interaction, reflection and activism to many other people living within the area.
Finally, I would just like to mention that when people contribute to Emmaus, by sharing their time and skills with us, or bringing donations and buying at our shops, they are not only supporting their local Charity, but they are also funding the visions and actions for a fairer world.