Helen's Story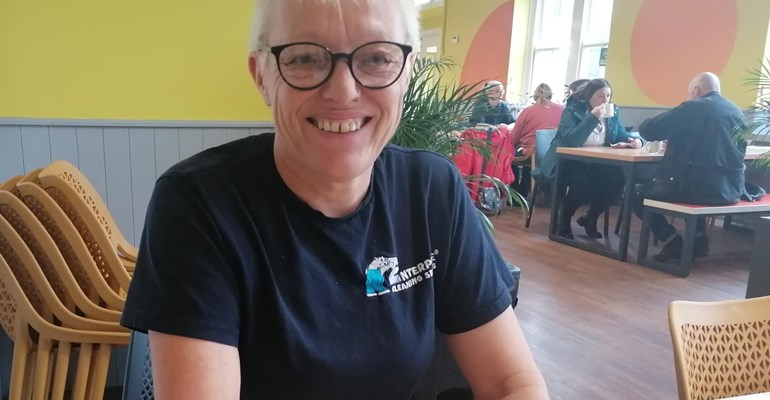 I've been at Emmaus Brighton & Hove since January 2022. I've been given some really fantastic opportunities since I've been here
I've been at Emmaus Brighton & Hove since January 2022. I've been given some really fantastic opportunities since I've been here, such as going to college, and to actually go over to Germany to an Emmaus community there called Emmaus Krefeld.
I was working as an assistant pub manager in a pub in Horsham, which was a job that also had accommodation with it. Unfortunately, three days before Christmas I got sacked and the owner of the tenancy decided he wanted me out the next day. I'd contacted the local council, because it was so near Christmas it was really awkward. The manager said to his partner that they weren't allowed to just kick me out without any notice. I ended up speaking to a housing prevention officer at Horsham District Council, but because during the previous two year period I'd moved out of the area and back, they couldn't help me. But they mentioned Emmaus, who I had heard of because I used to live in Hastings – practically opposite where the community is there. I said I had to think about it, because I wasn't sure if it would be quite right for me. They arranged for me to come down to Emmaus Brighton & Hove for a taster day, they showed me around and I chatted to some companions about what it was like living here. Then the community manager gave me a ring a few days later, offering me a place. It was like this great big weight lifted off me, because I was so worried I was going to have to sell all my belongings and sleep rough. And for a woman my age, to have that hanging over your head is awful. I lost a lot of weight in that time through worry, but luckily since being here I've put the weight back on.
I went to college last year, I went to Brighton Metropolitan college, and I did a computer course one day a week which has been really helpful. For the last few weeks, on Tuesday evenings, I've been doing a beginners floristry course. I've really enjoyed it, I've produced some absolutely fantastic arrangements. Out of them all my favourite was the horizontal design, very similar to what you would find as a coffin wreath; pretty long with huge amounts of flowers. I have had funding from the Emmaus UK companion training and well-being fund for this, and it's been brilliant. Next week is the last one, and I am hoping to sign-up to the next course which will start in April. The training to become a florist is quite expensive and is a two to three year course, and you also need to get all your equipment, so I'm not sure it's something I'll be able to necessarily pursue as a career. I've got an allotment here at Emmaus Brighton & Hove and will be growing my own flowers this summer, so I look forward to using these in my future arrangements too.
I work on the home team, so I keep the community clean. When I first came here I worked in the kitchen, and through that I really found out about my issues. So I stepped back from that, and Ren the community manager asked if I wanted to take on some cleaning duties, because I also have experience as a cleaning manager, working on jobs to a very high standard. My first contribution was to clean every single bath and shower in the community. Some of them hadn't been looked after, and it took me about four weeks in total, to get everything sparkling clean.
Here in the community I'm treated equal to the male companions. It would also be nice to see more women in the community, but I think you don't see so many women who are homeless, and so the majority of the Emmaus communities are male focussed. One piece of advice I'd give to any women who are considering becoming a companion is to not have a relationship with other companions, it can just get too complicated. You don't get much time to yourself, and when I have free time I like that to be my own time. I have a partner but he lives outside of the community.
In my spare time I'm a biker, and I've been riding bikes for 22 years. I started off on the dirt bikes for two years, and passed my test in 2004. I go out and about on the weekends on my bike, I belong to several biker groups on Facebook and one which is really dear to my heart is called Biker Escorts UK. We escort people on their last rides from their funerals to their final place of rest, and I'm really passionate about it. Sometimes there might be only four of five of us, but the families always really appreciate that we have taken the time to accompany someone on their last journey. In May, the King's Coronation will be a national holiday, so we think we're going to organise a big group of us to do something for that, especially as the roads will likely be quiet!