Sian's story
"If it hadn't been for this place, I don't know where I'd be.
Sian is sitting in the Revive café, taking a quick break from serving customers. She's had some useful experience, having worked in the restaurant of a BHS store some years ago. But since becoming an Emmaus Companion, she's really embraced catering, and plans to get some qualifications to work in the hospitality industry. At some point she'd like to get a flat of her own and become independent again, but she's in no hurry to leave the community – probably because she's aware of what the alternative can be.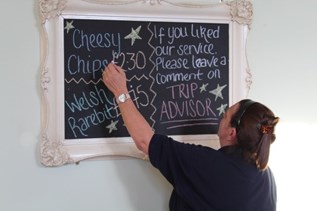 At the start of this year, Sian, a middle-aged woman, was living on the streets. After losing her job at a care home where she'd worked for over four years, Sian and her partner couldn't afford to keep their Worthing home, and in under six months found themselves sleeping behind Argos. The local council were unable to offer them any accommodation as a couple; Sian tried to find work, but even applying for jobs in such desperate circumstances became impossible. Eventually she was offered a place at Emmaus, while her partner was put in temporary accommodation in Worthing.
"The first day, I hated it. They put me in the guest room, and I just sat and cried."
But once she was given her job in the café, things began to change. Six months on, she's made friends, settled in, and sees her partner every couple of weeks. She enjoys her job, and the only extras she wants each day are her cans of Coke and her tobacco.
"It feels like home here," she says. Then she looks around the café, which is starting to fill up with customers wanting morning coffee and snacks, and smiles. "I should really get back to work."