Victor's story
Victor works with Ken Bates Associates, who provide training to companions – our name for the formerly homeless people who live and work at Emmaus Brighton & Hove – to help them achieve their NVQ qualifications. Victor recently visited us to present certificates for completed qualifications and start new learners on courses. We met up with him to find out more about his work: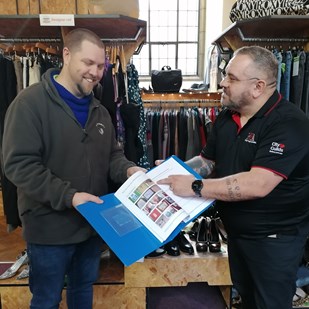 "I'm Victor, and I support companions through NVQ courses at Emmaus communities up and down the country.
"For the last 14 years we have been involved with Emmaus. For the first nine of those years, I was working for a college, and I sort of stumbled upon Emmaus by pure chance. When I left the college, my phone never stopped ringing with people from different Emmaus communities saying they wanted me to train with them. A friend of mine, Ken Bate, whom I knew from the college contacted me to see if I could work alongside him and become an associate and deliver bespoke training programmes to Emmaus. I bit his hand off knowing how much it would benefit Emmaus! Ever since then we have been going up and down the country training with Emmaus communities.
"What we do is bespoke. If I show you a workbook, you'll see all the photos are of companions (with consent to use them), and we have turned it into a language that everyone can deal with. The information is taken from the City and Guilds units, and we break that down into bite-sized chunks so as not to frighten anyone off. With companions, you know, sometimes if you put a pen in their hand, they've had such a bad experience at school or at work it's like taking the pin out of a hand grenade and handing it to them. The fright is there. Also, some of the companions might have dyslexia and so on, and we always offer support and put everybody on a level playing field.
"So, if we were to enrol a companion on an NVQ this is how it works. Basically, we would sign them up, then they're on the system at the college. We would then prepare a workbook portfolio for them, come down to the community with a fancy cover and their name on it, and then we would go through that with them. We explain to them how we want them to answer the questions. We want them to be able to tell us everything as if we know nothing. This qualification is designed for them to go to an employer and say "Yes, I've done my NVQ in warehousing and storage, here's a workbook with all the answers that I've done, and here's a link to an interview I've done with the assessors – because that's irrefutable evidence then, that I'm talking to them and it's them who is answering the questions.
"The qualifications we offer are Warehousing and Storage, and Customer Service, and retail skills which we formulated for Emmaus alongside the Emmaus UK team.
"We have come to Emmaus Brighton & Hove to give out completed certificates for the Warehousing and Storage NVQ. Whatever you're wearing, whatever you own, everything has come through a warehouse at some point. With Emmaus, everything they do revolves around collecting and selling items, companions offload it, store it, move it, clean it, you know, they do all this stuff with stock. So it's a really useful qualification to have.
"One of our favourite success stories is from a former Emmaus Brighton companion. He'd tried for numerous jobs and wasn't getting anywhere. We put him through the Warehousing and Storage course and was successful. He sold himself well on it, but he was very, very quiet, a gentle giant, and when he applied for jobs, he kept getting told no for whatever reason. He waited until he'd passed his NVQ to go for another job and took his certificates along to the interview. He started, I think, the next day! Unfortunately, not long after the pandemic hit, he got laid off, and he's now in an Emmaus community in the North, however he's currently on the Customer Service course, because he knows what he can do. He knows what he's capable of.
"We pride ourselves on what we do, but also heavily linked in with Emmaus and City & Guilds awarding body. It's the link between people who really need that help with a professional organisation that offer qualifications and being that middle person. We love it when I hear a story about someone who has been super successful with their move on. And if we have been a little part, or a catalyst in helping them get to where they are now, then we have achieved, and that's what makes my job brilliant."
I also caught up with Tony*, one of our companions at Emmaus Brighton who has undertaken NV               Q training with Victor at KBA, to ask him why he thinks the qualifications are important. He told me:
"The first NVQ I did was the warehouse and handling course, and that was interesting because even though I've worked in warehousing before I'd never actually got a qualification to say that I can do it. There was stuff on the course that I didn't realise, so it was good for educational purposes as well as just having the qualification. Then I did the customer services course, which was more relevant to what I was doing here, because I was working in the Superstore and working in the Café as well, so obviously its customer based. I enjoyed both courses and Victor was good. He was always available to help whenever I was stuck or if I didn't understand what a question was asking. I like the way he helps you through things, I find it helpful. So, when he said there was a new course this morning, I said sign me up! The way I see it, you can't have too many qualifications, and it's free so why not?"
A huge thank you to Ken Bates Associates, and to Victor and Ken, for all the amazing work they have done with us over the years.
*Tony's name has been changed