Sewing, knitting and crocheting
We are frequently contacted by keen crafters from Brighton, Hove and beyond, who would like to make things for us to sell in our shops. To help give you some ideas of things our customers love, we have put together a wish list. 
We would welcome any donations and you can find our wish list on Pinterest here: 
https://www.pinterest.co.uk/whatyousow/emmaus-brighton-craft-wish-list/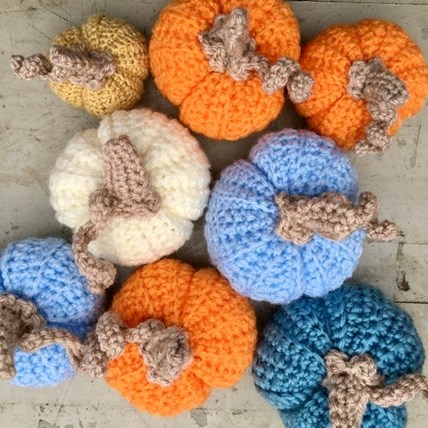 We are currently looking for: 
Crochet granny square blankets
Christmas tree decorations - knitted, crocheted, stitched or other! 
Christmas stockings (made of repurposed denim or other fabric)
Fingerless gloves and mittens (for all ages) 
Emmaus mini crochet pumpkins For next year) Download the pattern and instructions.
We hope this provides a use for the leftovers in your yarn or fabric stash - if you are in need of materials we may have some for you to use. Get in touch at contact@emmausbrighton.co.uk to make a request or ask one of our team in Outfit@Emmaus or The Greenhouse. 
Once you've made your beautiful, hand crafted goodies simply drop them off in store or post them to us at - Emmaus Brighton & Hove, Drove Road, Portslade, BN41 2PA. 
THANK YOU!