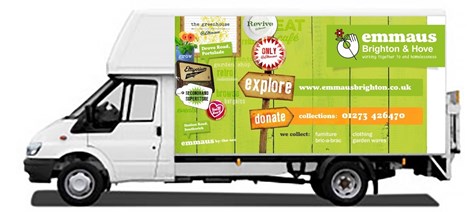 Just because you no longer need an item, don't throw it away, by donating it to Emmaus you're not only keeping it out of landfill, but you're also making sure it goes to a new home, while also doing something to help others.
Below is a list of the items that we can accept.
If you are unsure as to whether your donations are suitable, or to arrange a collection, please speak to a member of our collections team on 01273 426 480, who will be happy to help you.
Yes please (items we can accept)
• Good quality furniture
• Soft furnishings: Beds, mattresses, sofas. These must have a valid Fire Safety label still attached to each item (see below)
• Bric a brac: China, glassware and kitchenware
• Books: Good condition paperbacks, hardbacks and coffee table books,
• Curtains, household linens, fabric, and clothes
• Garden tools, plants (& cuttings), wheel barrows etc
• Haberdashery, wool, fabric
• Small musical instruments (no pianos)
• Plus records, CDs & DVDs
Fer more information or to request a collection, please follow the link below
Back