The Bedroom Store at Emmaus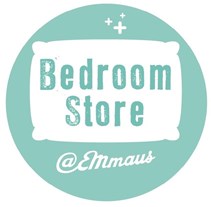 The New Year sees us beginning a programme of exciting new developments to our Portslade site. Work has begun to improve the welcome and wayfinding for visitors old and new, making it easier than ever to shop, donate and find your way around the site.
Our shops will see some changes too. One of our most successful ventures, The Bedroom Store has proven so popular that it has outgrown its home in the old Chapel and in February of this year will be moving to the space made available by the relocation of the Wood Store (back to their Brighton home).
Throughout January, we will be having a series of pop-ups and flash sales as the Bedroom Store winds down in its current location. Kicking off on Friday 4th and Saturday 5th January with our hugely popular £1 a carrier bag sale of bedding, linen, towels, blanket and cushions (please note this only applies to stock in the chapel, NOT clothes).
Look out too for great reductions on selected items of bedroom furniture throughout the month.
Once the Bedroom Store has moved into its new home, this will leave our magnificent Edwardian Chapel empty. You don't think we would leave it like that do you? Plans are in place already to transform the Chapel into a stunning new venture, one that will unlock the height, light, and beauty of this elegant building, providing one of the most exciting new shopping and community spaces in the South East.
Watch this space....
Back